$500 Military Offer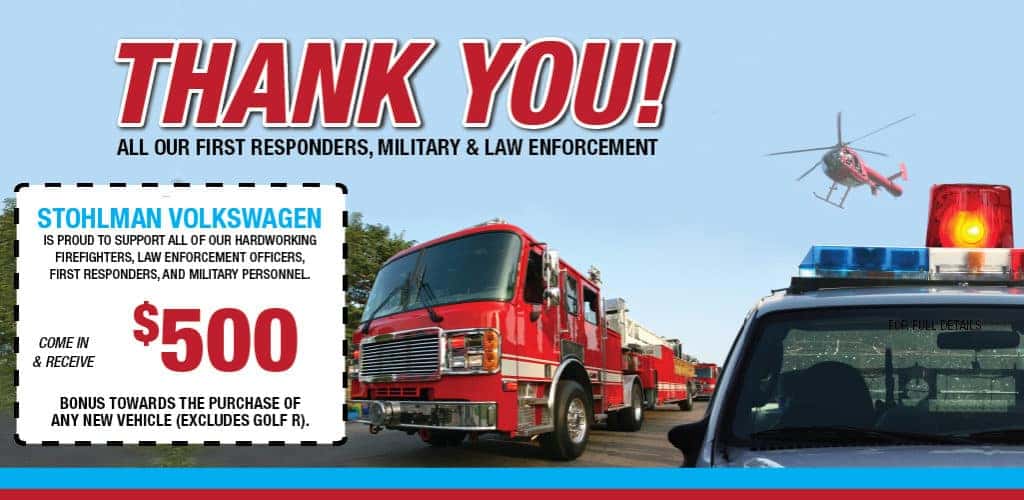 Stohlman Volkswagen is proud to support all of our hardworking firefighters, law enforcement officers, first responders, and military personnel. Come into Stohlman VW of Tysons and receive a $500 bonus towards the purchase of any new vehicle (excludes Golf R).
Here's a BIG Thank You to all of our Military, First Responders and Federal Law Enforcement
The following customers and their family household members are eligible for the Program:
First Responders:
– Firefighter
– Police Officer
– EMT
– Sheriff/ Sferiff's Deputy
– Paramedics
– State Trooper
– Federal Law Enforcement Officer
– Correctional Officer
Military:
– Active Duty S. Military (Army, Navy, Air Force, Marines, National Guard, Coast Guard and Active Reserve)
– U.S. Military Veterans
– U.S. Military Reitirees
United States Marshal Service
Federal Bureau of Investigation
Federal Bureau of Prisons
Bureau of Alcohol, Tobacco, Firearms, and Explosives
Drug Enforcement Administration
Office of Inspector General

CONTACT ME DIRECTLY, I'D LOVE TO HELP YOU!
Bill Brayer, New Car Sales Manager
703-770-6115  |  [email protected]